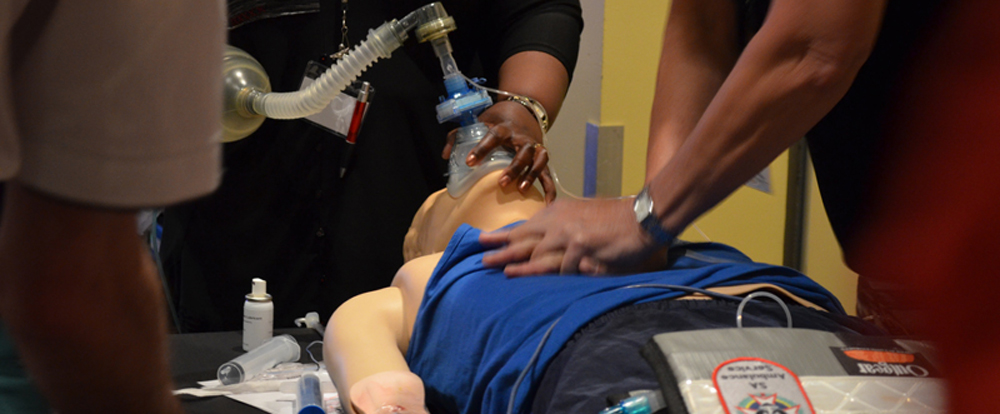 Advanced Life Support 2: Masterclass

Resuscitation of the Critically Ill/Deteriorating Patient

The ALS 2 Masterclass (one day) is designed for medical and nursing staff to be accredtied or re-accredited in the skills required for Basic and Advanced Life Support with a focus on extending the knowledge and skills in Resuscitation/Stabilisation of the Critically Ill or Deteriorating patient. The course is delivered in a supportive learning environment and uses interactive online pre-learning to cover core knowledge skills and a one day workshop for procedural skills and simulation training.
The course is suited to health professionals who wish to extend their knowledge in management of the seriously ill or deteriorating patient in the emergency setting, met call, and rural and remote environment.
Topics covered in the program include:
Reaccreditation of Basic and Advanced Life Support

Team-Based Resuscitation Skills

Resuscitation and ALS in special circumstances

Cardiac Arrhythmias: ECG Diagnosis, Cardiac Pacing, Cardioversion

Resuscitation and Stabilisation of the Critically Ill or Deteriorating Patient
---
Course Dates for 2024
Friday 7 June 2024 
Friday 20 September 2024
---
Information/Registration
Course Cost: $700.00 (incl. GST). Registration includes access to Course eLearning and One Day Skills and Simulation workshop.
Please note that LearnEM will no longer be issuing invoices to hospitals for registration fees. All registrations must be processed via the above registration link
Course Venue: LearnEM Training Centre, 47 Manton Street, Hindmarsh, SA 5007
Course Accreditation:
Australian College for Rural and Remote Medicine

Royal Australian College of General Practitioners (Activity no: 408027 : 9 Education Activity & 8.5 Reviewing Performance Hours for the 2023-2025 triennium)
Course CPD
Workshop Terms and Conditions: Please click here to see the LearnEM refund and ticket transfer terms and conditions.
---
Further information
Contact: LearnEM Program Manager
---
Workshop Pre-learning
Instructions: Click the link below to access the workshop pre-learning. (Pre-learning can only be accessed by participants registered for the workshop).