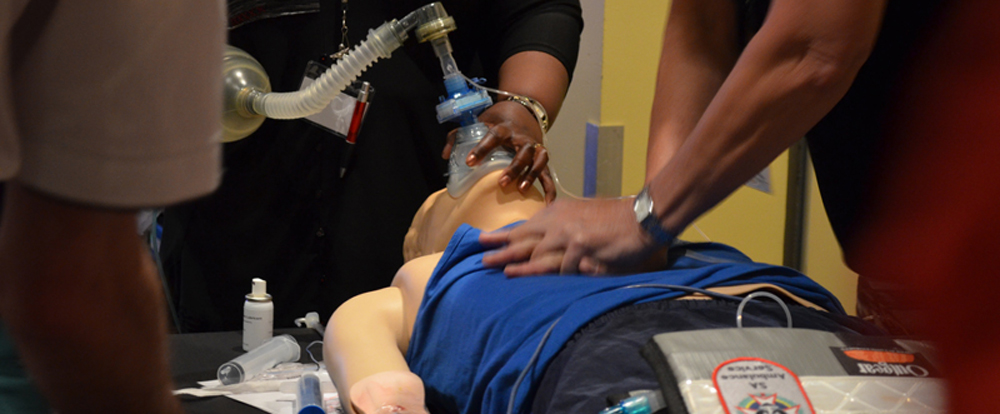 Advanced Life Support 2: Masterclass

Resuscitation of the Critically Ill/Deteriorating Patient

The ALS 2 Masterclass (one day) is designed for medical and nursing staff to be re-accredited in the skills required for Basic and Advanced Life Support with a focus on extending the knowledge and skills in Resuscitation/Stabilisation of the Critically Ill or Deteriorating patient. The course is delivered in a supportive learning environment and uses interactive online pre-learning to cover core knowledge skills and a one day workshop for procedural skills and simulation training.
The course is suited to health professionals who wish to extend their knowledge in management of the seriously ill or deteriorating patient in the emergency setting, met call, and rural and remote environment.
Topics covered in the program include:
Reaccreditation of Basic and Advanced Life Support

Team-Based Resuscitation Skills

Resuscitation and ALS in special circumstances

Cardiac Arrhythmias: ECG Diagnosis, Cardiac Pacing, Cardioversion

Resuscitation and Stabilisation of the Critically Ill or Deteriorating Patient
---
Course Dates for 2020
Thursday, 26th March 2020

Thursday 21 May 2020  (Date for this workshop to be rescheduled to July/August due to COVID19)

Thursday 27 August 2020 (Sold Out)
Thursday 26 November 2020
---
Information/Registration
Course Cost: $495.00 (incl. GST). Registration includes access to Course eLearning and One Day Skills and Simulation workshop.
Please note : LearnEM will not individually invoice SA Health units. All participants are required to register using the above link.
Course Venue: LearnEM Training Centre, 47 Manton Street, Hindmarsh, SA 5007
---
Further information
Contact: LearnEM Program Manager
---
Workshop Pre-learning
Instructions: Click the link below to access the workshop pre-learning. (Pre-learning can only be accessed by participants registered for the workshop).